News
CFI Launches TraderEvolution Platform: Forex, CFDs, Local & Global Stock Investing All Under One Account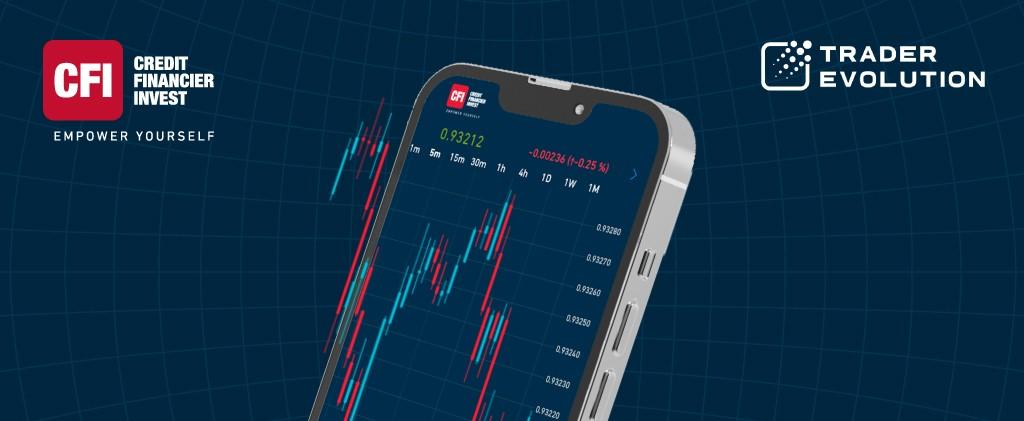 05, October, 2023
CFI Financial Group, a globally renowned online trading provider, is thrilled to announce the launch of its latest platform offering, TraderEvolution. The new offering grants traders an all-access pass to the global financial markets in one account, offering a broad range of assets and trade types encompassing forex, CFDs, and local & global stock investing.
One of the platform's standout features is its capacity to empower clients with a comprehensive suite of leveraged and non-leveraged products—all within a unified account. This revolutionary functionality allows traders to effortlessly invest in physical stocks and trade leveraged CFDs, encompassing forex, shares, indices, commodities, ETFs, and crypto, all from the same account.
This addition underscores CFI's relentless pursuit of innovation, further expanding its product portfolio alongside its flagship CFI Trading App and MT5.
Hisham Mansour, Co-Founder and Managing Director of CFI Financial Group emphasized the significance of this transformative addition, stating, "CFI's commitment to empowering its clients and enhancing their trading experience remains unwavering. Our Multi-Asset Account on the Trader Evolution platform exemplifies our dedication to providing traders with unparalleled flexibility and an extensive range of trading opportunities."
Rawad Dagher, Head of Product and CX at CFI Financial, elaborated on the platform's promise: "Traders were missing an all-in-one solution that empowers them with greater control and versatility. This offering fills that crucial gap, seamlessly integrating leveraged and non-leveraged products, promising a more versatile and comprehensive trading experience for our clients."
Roman Nalivayko, CEO of TraderEvolution Global stated: "We are honored to partner with one of the industry's leading companies. TraderEvolution and CFI are united by a common vision. This partnership represents more than a typical cooperation; it's a shared commitment to innovation, excellence, and advancing the trader's journey. The seamlessly structured multi-asset and multi-market offering from CFI, powered by TraderEvolution, establishes a new benchmark in the market. Previously, such innovations were the exclusive domain of long-standing players with proprietary technologies."
As CFI continues to set industry standards through cutting-edge trading solutions, this latest development exemplifies the company's dedication to innovation and client-centricity, offering traders access to a world of possibilities.
About CFI
CFI Financial Group is an award-winning trading provider with 25+ years of experience operating through different entities worldwide, including London, Larnaca, Beirut, Amman, Dubai, Cairo, Port Louis, and others. CFI offers highly competitive trading conditions with spreads from zero pips, zero commissions, fast execution, and no minimum deposit across 19+ global markets, including stocks, forex, commodities, indices, ETFs & other financial products. CFI is proud to have established global partnerships, including the Premier League's Sheffield United, the oldest football club in the world, and the football legend Pep Guardiola. The Group's commitment to be at the forefront of technology is demonstrated by the launch of several tools aimed at empowering traders including the CFI Trading App, Fxblue, TipRanks, Capitalise.ai and others. CFI is also renowned for its 24/7 client support, daily technical reports, free webinars, and dedicated account managers, ensuring a best-in-class trading experience for its trading clients spread over 100+ countries.
About TraderEvolution Global
TraderEvolution is a multi-market trading platform provider offering modular, tailored solutions that include a comprehensive back office solution with established connectivities to a complete range of markets across the globe, and a complex front-end suite with web, mobile, and desktop applications. The company serves banks and brokers from around the world, empowering them with an independent and liquidity-neutral solution to facilitate core brokerage operations or complement their existing solutions.
News.
The most important milestones on our path to make financial markets more efficient.
Feel free to:
Include us in your RFI & RFP processes
Ask to sign a mutual NDA with us
Request an introductory call, product presentation and demo account
Visit our offices and meet our teams
Please note that we are working directly only with businesses (B2B).