News
FYNXT and TraderEvolution Join Forces to Bring a Comprehensive Multi-Asset Platform Solution to Brokers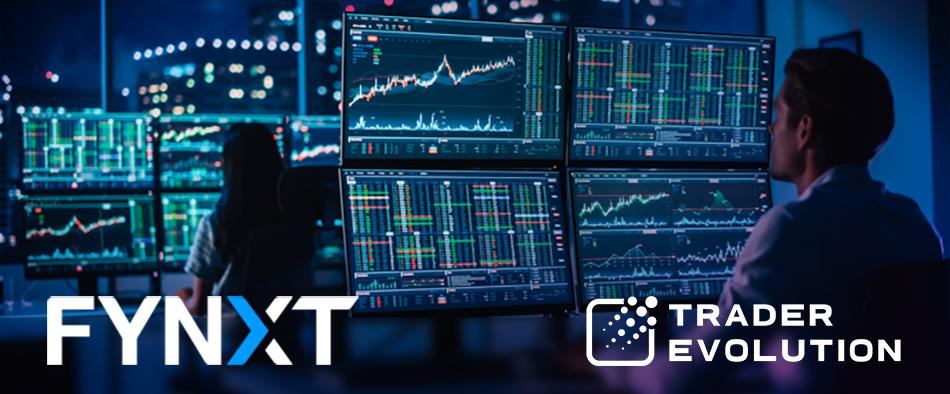 11, January, 2023
TraderEvolution Global Limited, a multi-market trading software provider for brokers, prop firms, and banks, has entered into a partnership with FYNXT, a Low Code & Modular Digital Front Office for Multi-Asset Brokers and other FI's.
With this new alliance, FYNXT has developed a seamless integration with TraderEvolution's OMS & EMS system to create a comprehensive solution that helps multi-asset brokers and banks, licensed anywhere in the World, manage their trading operations, customer relationships, sales, operations, and IBs within a well-structured software environment.
FYNXT's 'plug&play modules' for the back office are a perfect fit for TraderEvolution's software for order management (front-end apps and dealer terminal) as well as market data and execution management (server and integrations) of a multi-market brokerage. The joint solution vastly simplifies the onboarding process for new brokers or the transition to a fully-fledged multi-asset model with a short time to market.
Roman Nalivayko, CEO at TraderEvolution Global, commented on the partnership:
"This partnership aims to expand our offering to our clients by providing a more comprehensive and cohesive platform that streamlines the operations as FYNXT's software will complement our trading software solutions. We look forward to a long and successful partnership with FYNXT, further leveraging benefits of the modern IT technology for our clients."
Aeby Samuel, CEO at FYNXT, commented on the partnership:
"We are thrilled to unveil our strategic collaboration with TraderEvolution. With this partnership, we can now offer our clients access to an even broader spectrum of trading options and state-of-the-art technology. We firmly believe that this partnership will be a win-win for both our companies, opening doors to new and exciting opportunities. We anticipate great results in working with the TraderEvolution team and elevating the trading experience for our highly valued clients to new heights."
FYNXT and TraderEvolution with their API connectivity could be integrated into a bigger brokerage ecosystem, and both vendors are also open to integrating 3rd party services and software to ensure the competitiveness and flexibility of their clients. 
TraderEvolution encourages its brokers to choose execution counterparties or data providers freely. They can also connect 3rd party front ends, news sources, risk, or matching engines. The partnership with FYNXT is a big step toward making operations of multi-asset and multi-market brokerages a much better and seamless experience.
About TraderEvolution Global:
TraderEvolution is a multi-market trading platform provider offering modular, tailored solutions that include a back-end with established connectivities to dozens of markets across the globe, and a complex front-end suite with web, mobile, and desktop applications. The company serves banks and brokers from around the world, empowering them with an independent and liquidity-neutral solution to facilitate core brokerage operations or complement their existing solutions.
About FYNXT:
FYNXT is a Singapore-based ISO-Certified fintech that empowers FYNancial Services with the NXT-Gen Low Code & Modular Digital Front Office for Multi-Asset Brokers and other FI's.
 
News.
The most important milestones on our path to make financial markets more efficient.
Feel free to:
Include us in your RFI & RFP processes
Ask to sign a mutual NDA with us
Request an introductory call, product presentation and demo account
Visit our offices and meet our teams
Please note that we are working directly only with businesses (B2B).