News
TraderEvolution Global Releases Portfolio Management Solution Expanding Their Trading Software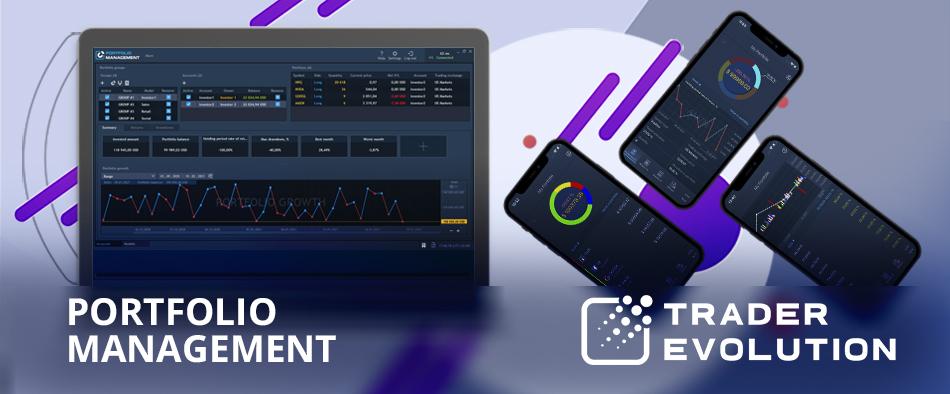 30, September, 2021
The leading global trading software vendor releases a new module to its white-label trading system for retail brokers, banks and prime brokers which continues the new line of professional investment features in the company's multi-market trading platform software.
With the latest add-on the TraderEvolution caters to investment professionals and passive investors who would like their money to be managed in a safe, integrated environment.
The newest feature incorporates two separate versions of tools - a desktop application for portfolio managers, and dedicated interfaces for investors in web and mobile terminals.
New tools contain all necessary functions for their roles, including:
monitoring of portfolio performance through various metrics
Managing portfolio models automated allocation of funds and
rebalancing in accordance to the model
The newly added module is controlled from within the back office terminal where portfolio admin creates portfolio entities, manages investors' subscriptions and key information, and sets management fees, ensuring everything is compliant with regulatory requirements and company's policies.
"We've made one more step towards building the most universal and comprehensive trading platform. It is well known that many brokerages that offer service for self-directed trading and managed portfolios use fragmented technologies and with this release we bring more efficiency, allowing brokers to serve both groups of clients using the same platform." - Says Roman Nalyvaiko, the CEO of TraderEvolution.
Every broker who uses TraderEvolution's solution may now subscribe to the new module becoming an investment hub for professional traders and asset managers as well as for investors.
Feel free to contact us in order to learn more.
News.
The most important milestones on our path to make financial markets more efficient.
Feel free to:
Include us in your RFI & RFP processes
Ask to sign a mutual NDA with us
Request an introductory call, product presentation and demo account
Visit our offices and meet our teams
Please note that we are working directly only with businesses (B2B).