News
TraderEvolution Global Unveils New Web-Based Mobile Trading Platform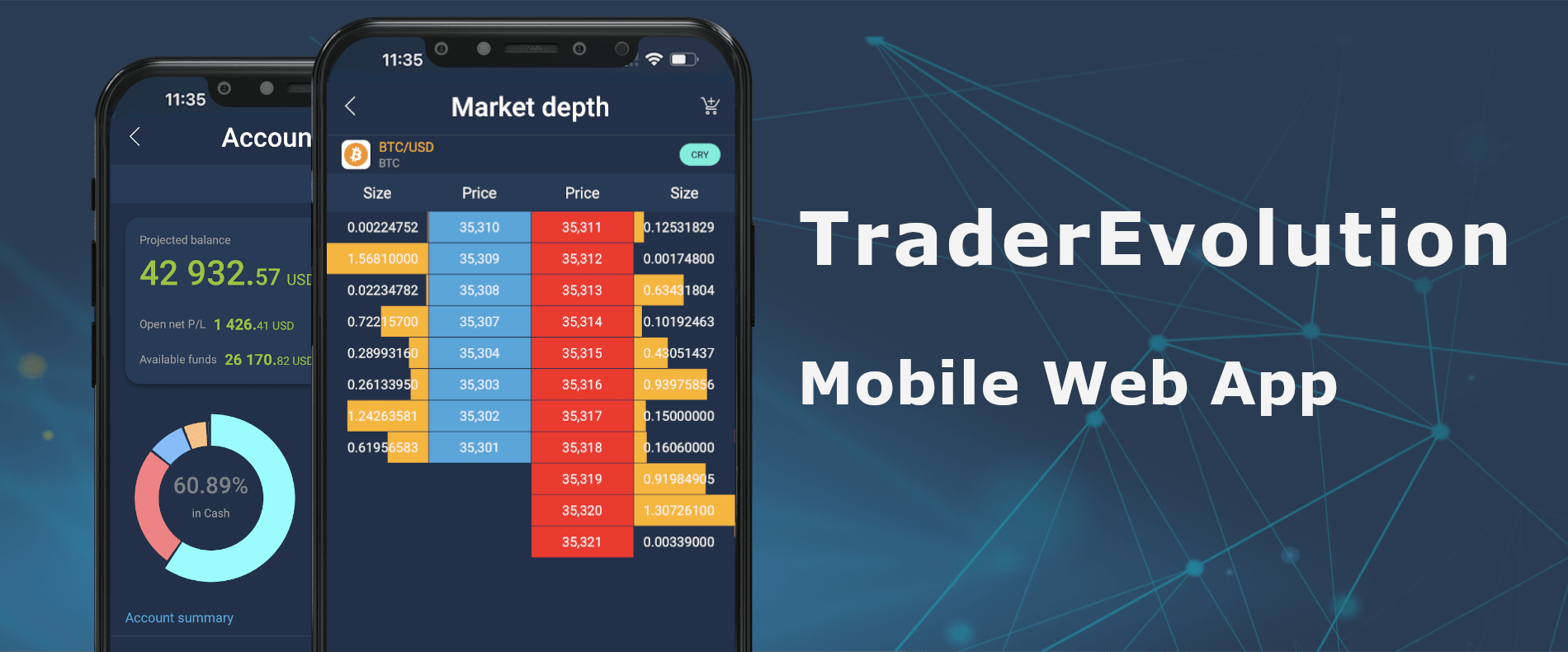 08, November, 2023
This week, TraderEvolution Global is excited to announce the release of its platform in web format for mobile devices.
Central to TraderEvolution Global's ethos is the continued commitment toward empowering brokerages which foster greater control of their businesses and give them the tools to break free from stifling monopolies which have had a diminishing effect on the ability for many brokerages to develop their product range.
In keeping with this core direction, TraderEvolution expands its method of providing a comprehensive software suite which resolves many issues that brokers face in these times of fierce competition.
This innovative advancement offers traders a new avenue to access global markets directly from the web browser on their smartphones. The web-based platform complements the existing TraderEvolution mobile application and shares many core features, eliminating the need for users to download native applications to their devices.
The launch of a web-based mobile trading environment focuses on TraderEvolution's ethos of enabling electronic brokerages to become more independent, more efficient, with less dependency, therefore providing huge value to businesses, especially those offering white label services.
In this respect, the new web based mobile application allows brokerages to expand their reach in an increasingly mobile-first world, and ensures consistent availability in all regions globally due to its independence from mobile application marketplaces and catalogues, whilst also allowing firms to promote and protect their own business by establishing multiple branded mobile interfaces connected to a common backend system.
Keeping functionality up-to-date is paramount in serving discerning traders effectively. The new TraderEvolution web-based mobile platform leverages cutting-edge web technologies to deliver an experience that closely resembles native app usage. Users can enjoy most core features for navigating the trading environment and interacting with global markets seamlessly. In a fast-paced market landscape, the ability to roll out new functionalities and services swiftly is essential. Web technology empowers brokers to provide rapid updates without causing disruption to end-users' services.
Roman Nalivayko, CEO of TraderEvolution Global, emphasized the significance of the new web-based mobile platform. He stated, "TraderEvolution has developed this new web-based mobile platform as part of the company's mission to ensure that financial institutions, brokers, and wealth managers offering the TraderEvolution multi-asset platform  have the ability to maintain full control over the distribution of the mobile application to their clients."
"Our goal is to empower brokerages to engage their clients seamlessly and offer access to a wide array of global markets, regardless of local application restrictions or device specifications, and to ensure that, via the use of modern web technologies, brokers can offer their cusotmers a similar user experience to that of the native smartphone application including most of the core actions for navigating and interacting with all of the functions."
About TraderEvolution
TraderEvolution is a multi-market trading platform provider offering modular, tailored solutions that include a comprehensive back office solution with established connectivities to a complete range of markets across the globe, and a complex front-end suite with web, mobile, and desktop applications. The company serves banks and brokers from around the world, empowering them with an independent and liquidity-neutral solution to facilitate core brokerage operations or complement their existing solutions.
---
News.
The most important milestones on our path to make financial markets more efficient.
Feel free to:
Include us in your RFI & RFP processes
Ask to sign a mutual NDA with us
Request an introductory call, product presentation and demo account
Visit our offices and meet our teams
Please note that we are working directly only with businesses (B2B).