News
TraderEvolution Integrates Trading Central's Analytics & Research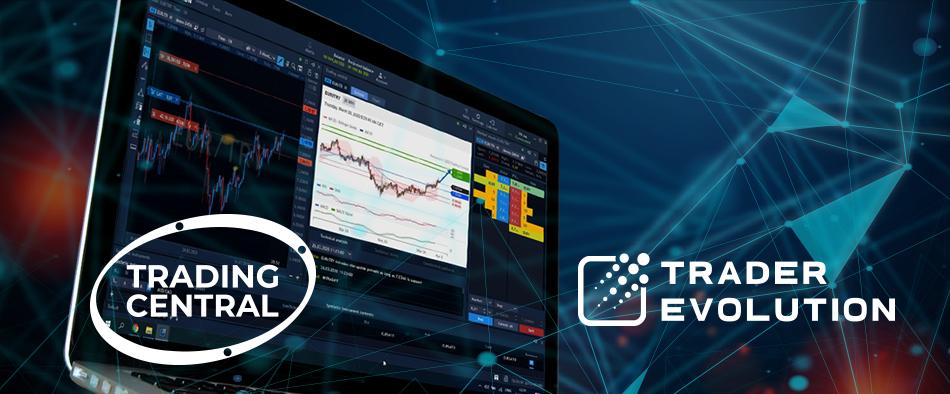 07, April, 2020
The trading platform provider successfully adds the award-winning investment decision support tool
Multi-market trading platform provider TraderEvolution has just announced yet another milestone for the company's rapidly evolving product suite. The team successfully completed an integration with Trading Central - a leading provider of automated financial markets analytics and research.
The move underscores another milestone in the mission of TraderEvolution as a leading trading platform provider. The company's goal to deliver a practical solution tailored to the different needs of different types of financial market participants.
The addition of Trading Central complements the company's already material lead in the industry as a universal modular trading platform that enables brokers to gain access to multiple markets. With support for Equities, ETFs, Futures, Options, CFDs, and FX, TraderEvolution is enabling every broker using the solution to be a true multi-asset provider.
With this integration, TraderEvolution's clients also gain access to the Analyst Views brief, where Trading Central is delivering actionable technical analysis trading plans compiled by the firm's experts in tandem with proprietary automated algorithms.
Commenting on the partnership with Trading Central, the CEO and co-founder of TraderEvolution, Roman Nalivayko said: "Our integration with Trading Central is another step towards achieving our end-goal with TraderEvolution - to deliver the most universal and powerful multi-market platform on the market."
"The flexibility of our offering enables every adopter of our technology to stand out from the crowd. With the latest partnership with Trading Central, we are adding a key research and analysis tool that traders worldwide have come to rely on," Nalivayko elaborated.
"Here at Trading Central, we're proud to support confident trade decisions through innovation. That's why we're excited to launch our new technology partnership with TraderEvolution," said Alain Pellier, CEO and co-founder of Trading Central. 
"Their end-to-end brokerage solution is a natural fit for our Analyst Views research tool, making actionable technical analysis more readily available for leading online brokerage," Pellier explained.
About TraderEvolution 
TraderEvolution is a multi-market trading platform provider offering modular, tailored solutions that include a back end with established connectivities to dozens of markets across the globe and a complex front-end suite with web, mobile and desktop applications. The company serves banks and brokers from around the world, empowering them with an independent and liquidity-neutral solution to facilitate core brokerage operations or to complement their existing solutions.
For more information please visit: www.traderevolution.com
About Trading Central
Trading Central is a global leader of actionable, financial market research. Their online broker solutions deliver engaging, actionable insight through an award-winning fusion of proprietary automated AI analytics, beautiful user interfaces, and registered investment adviser expertise. Their patented pattern recognition is constantly scanning the market, providing up-to-date technical, fundamental, economic and sentiment analysis, and market commentary on over 72,000 global instruments.
For more information please visit: www.tradingcentral.com.
Contact us to learn more!
News.
The most important milestones on our path to make financial markets more efficient.
Feel free to:
Include us in your RFI & RFP processes
Ask to sign a mutual NDA with us
Request an introductory call, product presentation and demo account
Visit our offices and meet our teams
Please note that we are working directly only with businesses (B2B).