News
WEBINAR: Empowering Multi-Asset Brokerages with Market Data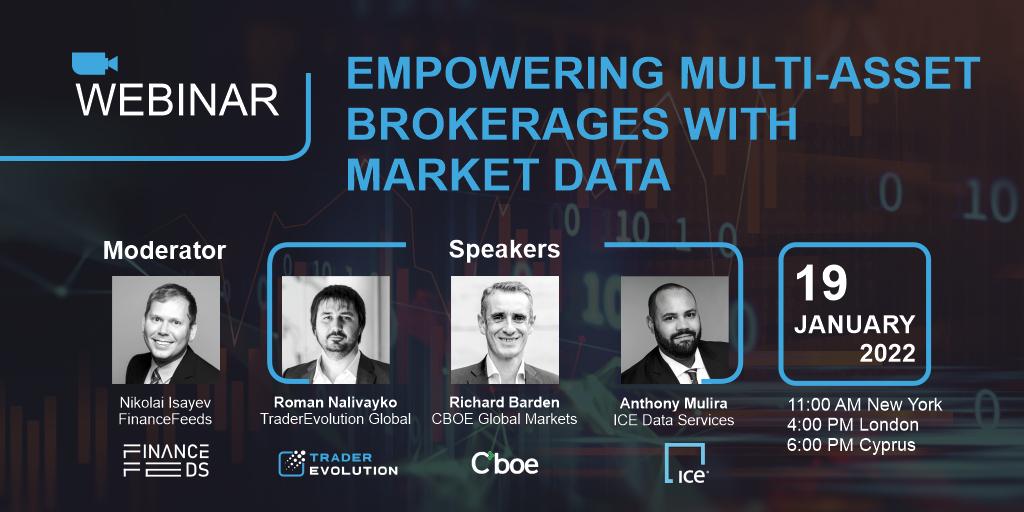 11, January, 2022
TraderEvolution Global Ltd. is co-organizing a webinar, featuring CBOE Global Markets and ICE Data Services, with the idea of educating brokers about efficient market data usage in compliance with most common licensing practices.
The webinar will be hosted and moderated by FinanceFeeds' Nikolai Isayev and it is dedicated to employees and directors at brokerages which aim at adding exchange-traded products to their offering as well as to those, who wish to expand their offering with products from different exchanges.
Among key topics that participants are looking to cover would be the reality of licensing and legal requirements as well as technical capability of making market data usage more robust and efficient. All of that with the pricing, overall costs, bandwidth or latency in mind.
The webinar would also include a Q&A session for attendees to ask questions to our panelists.
When and where:
19th of January 2022, time 4pm London / 11am New York / 6pm Cyprus
Zoom - registration
Who is who:
Anthony Mulira – Director of Global Pre-Sales, Real Time Feeds at ICE Data Services
Anthony Mulira is Director of Global Pre-Sales, Real Time Feeds at ICE Data Services, a leading provider of market data solutions which is part of ICE. Mulira is responsible for solution design, including technical, commercial, and contractual oversight for the Feeds business, which provides aggregated content from 600+ global sources in real-time and historical tick and bar formats.
Mulira has 15 years' experience in the market data industry working in and leading customer facing functions in support of the delivery of real time market data. Prior to joining ICE in 2020, Mulira spent 13 years at Bloomberg in a variety of roles inclusive of Client Services and Production Support and Operations, working in both London and New York. He holds an MBA from Cornell University, Samuel Curtis Johnson Graduate School of Management and a BScEcon from Aberystwyth University.
Richard Barden – Director of Market Data Sales, CBOE Global Markets
Richard Barden joined Cboe Global Markets in 2018 as Director, Market Data Sales. Richard is responsible for the expansion and distribution of Cboe's Market Data offerings throughout Europe and the Middle East. Cboe offers a global suite of market data products, spanning US, European & APAC Equities, U.S. & EU Options, US & EU Futures, US, EU & APAC Indexes and FX.
Prior to joining Cboe, Richard spent 10 years at Morningstar working in a variety of roles within their Market Data business. Richard has over 20 years of experience working within the financial industry, having previously held roles at Tenfore (now Morningstar), Thomson Financial (now Refinitv) and Financial Express (now FE fundinfo). Richard holds a Bachelor of Arts degree in History from the University of Hertfordshire.
Roman Nalyvaiko, Co-Founder and CEO of TraderEvolution Global
Between 2010-2017 Roman held the Global Head of Business Development position at a multi-asset solutions provider where he was supervising trading software implementations for financial institutions. In 2017 he launched a fintech startup – TraderEvolution Global – to bring the institutional-grade solutions to the retail trading industry as he saw it increasing in sophistication. During his career Roman was responsible for implementations of the multi-asset trading software in dozens of investment firms and banks around the world. Roman is also actively involved in the ongoing TraderEvolution's software development process.
FEEL FREE TO REGISTER
and secure the recording which would be sent to all participants after the event.
---
Don't miss this short interview on the upcoming webinar:
News.
The most important milestones on our path to make financial markets more efficient.
Feel free to:
Include us in your RFI & RFP processes
Ask to sign a mutual NDA with us
Request an introductory call, product presentation and demo account
Visit our offices and meet our teams
Please note that we are working directly only with businesses (B2B).