News
Alior Bank Launches the Alior 4 Trader Investment Platform Based on TraderEvolution Software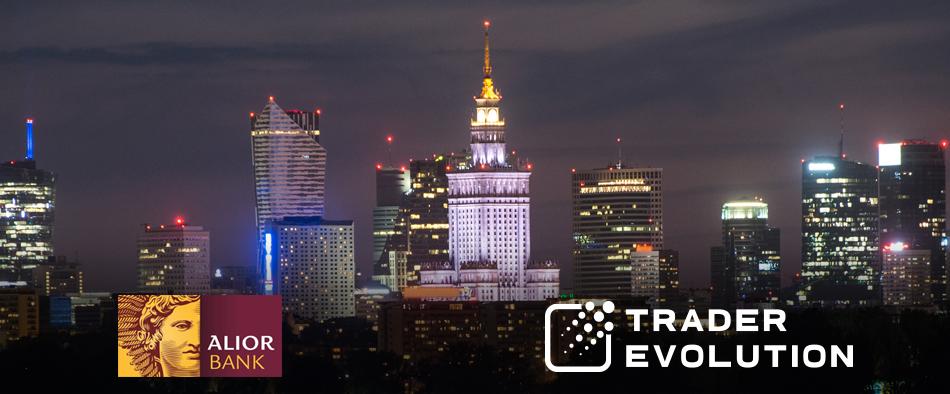 07, September, 2021
The Polish bank offers investment services in a modern cross-platform trading environment.
07 Sep 2021 , TraderEvolution Global Ltd., the leading multi-market trading software provider delivers its brokerage software solution to Alior Bank S.A., to launch its new Alior 4 Trader investment service.
The bank serves approximately 4,5 million customers across a wide range of banking products. Its investment services include domestic stocks, investment funds, ECN FX as well as commodity and index CFDs. Launching Alior 4 Trader the bank's Brokerage Desk plans to replace current Alior Trader 2 service on web, mobile and desktop platforms for modern user experience as well as new and advanced analytical and trading tools.
"As experts we know that investing on the Forex market is carrying risk, requires knowledge and awareness of potential consequences. Thus we would like to provide our clients with the highest safety, offering them the ability to invest in currencies and commodities with a secure broker, operating in the ECN model based on the modern and convenient platform. Thanks to Alior 4 Trader our clients have full control of their trading through advanced account statistics and tools that serve any investment strategy. We have implemented a new mobile application to take the comfort and security of investing to a higher level. " - says Michał Madej, interim director of the Alior Bank's Brokerage Desk.
Roman Nalivayko commenting for TraderEvolution said:
"Extensive requirements of a banking client like Alior Bank are a real test for our team and product. Alior takes full advantage of a branded trading platform that stands out on the local market, having software that is up to date with leading industry standards and continuously evolving."
TraderEvolution software is not only about connectivity to the market, allowing all sorts of different ECN, STP or DMA execution models to be employed by brokers, but it also offers modern front-end tools for all sorts of trading styles that involve market data of various levels. Alior 4 Trader users gain access to a number of panels for active trading such as scalper, DOM or visual trading on the chart, along with advanced account statistics for improved risk management.
News.
The most important milestones on our path to make financial markets more efficient.
Feel free to:
Include us in your RFI & RFP processes
Ask to sign a mutual NDA with us
Request an introductory call, product presentation and demo account
Visit our offices and meet our teams
Please note that we are working directly only with businesses (B2B).