News
Intertrader Chooses TraderEvolution for Multi-Asset Trading Solution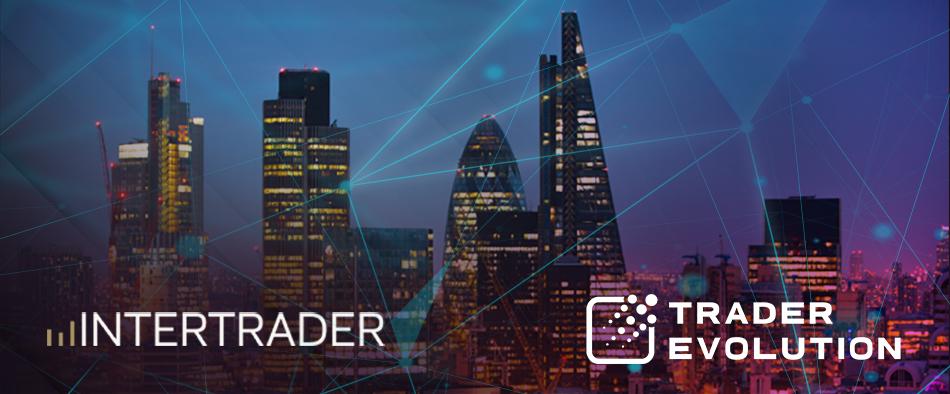 12, May, 2021
TraderEvolution Global Limited, the leading multi-market trading technology provider, announces its licensing agreement with Intertrader Limited, a specialist margin trading broker offering multi-asset-class execution and clearing.
An award-winning provider of financial services, Intertrader has selected TraderEvolution for a multi-asset trading software solution. Intertrader and Intertrader Black users will be able to take advantage of the uniform user experience TraderEvolution offers across web, desktop, iOS and Android.
TraderEvolution's established connectivity and flexible functionality will enable Intertrader clients to customise terminal workspaces and trade equities, indices, commodities, bonds and FX from the same account.
Shafiq Shabir, Head of Electronic Trading at Intertrader, said:
"We're delighted to be using the TraderEvolution platform to provide our multi-asset-class trading solution. Our Intertrader and Intertrader Black clients will enjoy the platform's shared functionality across web, desktop and mobile."
"The platform delivers the functionality our traders demand, including the ability to trade directly from your chart on web, desktop and mobile, and to customise multiple trading workspaces."
TraderEvolution's ability to provide solutions specifically tailored to the target market is essential for Intertrader as it shifts focus to professional and institutional clients. Intertrader's strategic move to integrate TraderEvolution's trading platform enables the broker to attract a broader audience as the platform is especially suited to professional traders with its level 2 pricing functionality, and to asset and money managers requiring multi-account management.
Commenting on the partnership, Roman Nalivayko, CEO of TraderEvolution Global Limited, said:
"With their vision and our tailored multi-market solution, Intertrader is positioning themselves way ahead of most of the brokers in the industry while delivering their clients a platform equipped with the most demanded professional trading tools."
"For us, customised multi-asset and multi-market setups are the most valuable because this is where our software can show its true value, helping brokers to really stand out in the crowd," Mr Nalivayko added.
Intertrader is a specialist margin trading broker offering a low-latency trading environment and multiple execution venues, with access to large ECN liquidity pools of tier 1 financial institutions. Established in 2009, Intertrader has a proven track record for exceptional client service and reliable execution.
A serial innovator within the industry, with its "matched principal" model Intertrader remains 100% market-neutral on its clients' positions, eliminating any conflict of interest. Now with the introduction of the TraderEvolution platform, Intertrader takes its service for professional and institutional clients to a new level.
About TraderEvolution
TraderEvolution is a multi-market trading platform provider offering modular, tailored solutions that include a back-end with established connectivities to dozens of markets across the globe, and a complex front-end suite with web, mobile and desktop applications. The company serves banks and brokers from around the world, empowering them with an independent and liquidity-neutral solution to facilitate core brokerage operations or to complement their existing solutions.
For more information please visit: www.traderevolution.com
About Intertrader
Intertrader is a multi-asset-class liquidity provider across FX, indices, commodities, equities, bonds and interest rates. Its parent company is Entain PLC, a FTSE 100 company with a market cap of over £9.5 billion (May 2021). For more information please visit:  www.intertrader.com
---
Intertrader is authorised by the Gibraltar Financial Services Commission (GFSC) and subject to limited regulation by the Financial Conduct Authority. Details about the extent of Intertrader's regulation by the Financial Conduct Authority are available at
www.intertrader.com
News.
The most important milestones on our path to make financial markets more efficient.
Feel free to:
Include us in your RFI & RFP processes
Ask to sign a mutual NDA with us
Request an introductory call, product presentation and demo account
Visit our offices and meet our teams
Please note that we are working directly only with businesses (B2B).