News
TraderEvolution Global Integrates Multi-Asset Platform for All Brokers to Access via TradingView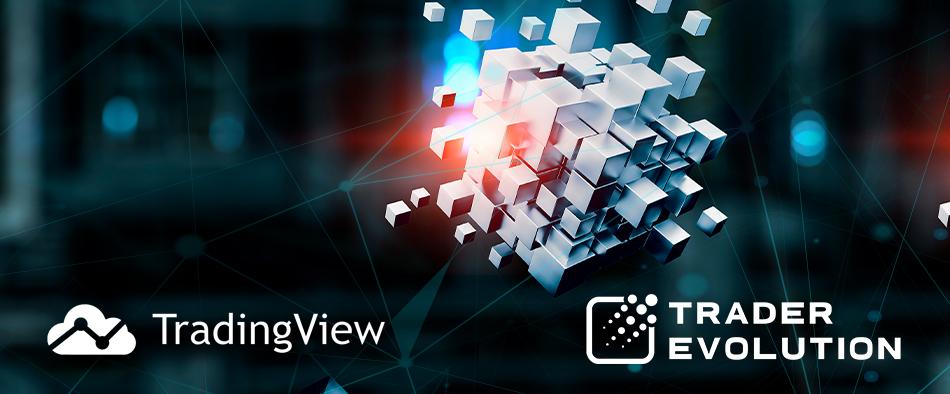 23, June, 2021
Innovative integration gives brokers unparalleled access to multiple venues, liquidity pools, and asset classes via TradingView's vast network
We're so excited to announce yet another major milestone for our fully comprehensive, multi-asset trading platform. One of the world's largest social trading networks, providing live quotes, stock charts, and trading ideas, TradingView is designed for both retail traders and brokers looking to empower their clients. With a sophisticated and cutting-edge set of analytical tools, combined with unlimited access to multiple trading venues and diversified liquidity, we think we're the best of the bunch – and this latest development takes us one step further. 
 
It is always a challenge for a broker to combine numerous markets and asset classes into a single electronic trading platform, and it can be tricky for smaller players to automate key processes and/or create the infrastructure to distribute market data directly to a client's terminal. To help fix this, we're delighted to announce our new partnership with TraderEvolution Global, one of electronic trading's most innovative trading system development companies. 
 
TradingView's partnership with TraderEvolution Global will drive forward and dramatically improve the trading experience for our increasingly demanding and sophisticated retail traders. Brokerages can now be supported directly via the TradingView Web Platform, allowing end-users to execute orders directly through TradingView's interface. All they have to do is log into their brokerage accounts, receive brokers' streaming data, and send orders straight to their broker. Easy as pie! 
 
"We are proud to get integrated with TradingView, our two products have a number of matching points that brokerage companies can benefit from – in particular, multi-asset capabilities and global markets coverage," said Roman Nalivayko, CEO of TraderEvolution Global. "By implementing this integration we are confirming our dedication to support brokers by integrating third-party services and help them differentiate. Brokerages that are interested in being integrated with TV can now utilize TraderEvolution's technology, giving them full access to global markets across multiple sources of liquidity and a genuinely diversified range of asset classes." 
 
Becoming a supported brokerage makes it much easier for users to open an account with TradingView and start placing trades. Brokers that are integrated into TradingView can also promote their brand, engage with existing customers, and get new accounts by providing a significant UX improvement. 
 
Nikita Kushnarev, Director of Partner Integrations at TradingView, commented: "TradingView is delighted to partner with TraderEvolution, a multi-market brokerage solution that helps us to integrate Brokers and Exchanges even more efficiently onto our platform. Through its quality bridge solution, TraderEvolution allows us to streamline the onboarding of supported brokers through a simple online process, a key new resource that should ease development pressure and lower the infrastructure requirements for new brokers."
 
"We kickstarted the curve earlier this month with our newest ally, Australian broker Global Prime, which was quickly and efficiently integrated onto the TradingView platform through the TraderEvolution solution in its first successful evolution with us. Looking ahead, we're so excited to bring on board even more integrated partners through this latest collaboration, so watch this space."
 
-
Feel free to CONTACT US to learn more.
News.
The most important milestones on our path to make financial markets more efficient.
Feel free to:
Include us in your RFI & RFP processes
Ask to sign a mutual NDA with us
Request an introductory call, product presentation and demo account
Visit our offices and meet our teams
Please note that we are working directly only with businesses (B2B).