News
TraderEvolution Global Refines Liquidity Access and Risk Management with Centroid Integration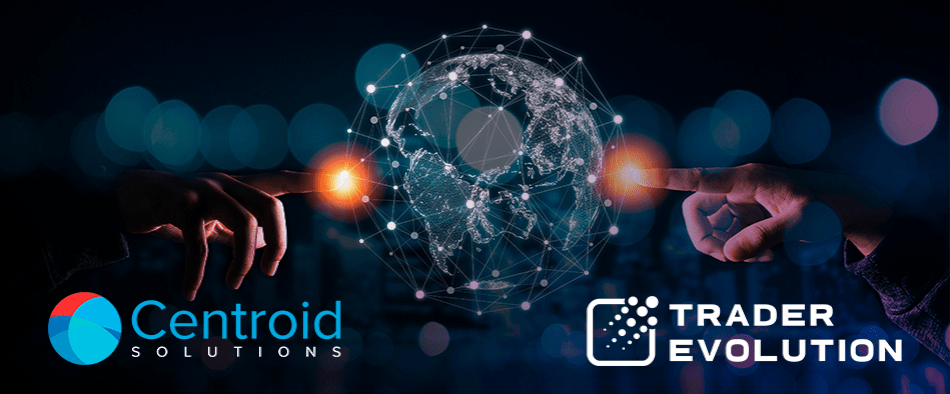 28, August, 2023
[DUBLIN, IRELAND. AUGUST 28, 2023] – TraderEvolution Global, an avantgarde multi-market trading platform software provider, has achieved a significant leap forward by integrating with Centroid Solutions, a specialized authority in connectivity bridge, risk management, hosting and infrastructure solutions for the electronic trading sector. This strategic alliance ushers in a new era of precision and autonomy within the dynamic financial landscape.
In today's increasingly specialized environment, where traders navigate the intricacies of financial markets with precision, and brokerages strive to expand their product offerings with multi-asset capabilities, it is imperative for brokerages to maintain control over product distribution, risk management, and client base management. The integration between TraderEvolution Global and Centroid Solutions addresses these crucial needs, empowering brokerages to navigate this complex landscape with confidence.
"TraderEvolution Global is committed to empowering both traders and brokerages with innovative solutions that meet the demands of the modern trading world", said Roman Nalivayko, CEO of TraderEvolution. "Through our integration with Centroid Solutions, brokerages gain unprecedented control over the distribution of their products and the execution of risk management strategies. This integration aligns with our mission to provide comprehensive tools that drive success."
The strategic alliance between TraderEvolution and Centroid Solutions signifies a transformative shift
in the realm of electronic trading. As the industry evolves, brokerages must stay ahead by offering multi-asset  apabilities while managing their inherent value – their client base – effectively and efficiently.
Cristian Vlasceanu, CEO of Centroid Solutions, underscored the importance of the collaboration:
"This integration combines the strengths of TraderEvolution Global and Centroid Solutions to elevate
the trading  experience for brokerages and traders alike. By offering precise risk management capabilities and enhanced liquidity management and distribution control, brokerages can optimize their operations and better serve their clients."
The integration caters to the complex needs of a rapidly evolving trading landscape, allowing brokerages to enhance their operational efficiency, expand their product range, and ensure client satisfaction.
By facilitating an intuitive interface for managing risk and distribution, the alliance equips market participants with tools to thrive in an increasingly competitive environment.
As the partnership between TraderEvolution Global and Centroid Solutions deepens, the trading community can expect to benefit from amplified risk management strategies, elevated distribution control, and enhanced client engagement.
About TraderEvolution Global:
TraderEvolution is a multi-market and multi-asset trading platform provider offering modular, tailored solutions that include a back-end with established connectivities to dozens of markets across the globe, and a complex front-end suite with web, mobile, and desktop applications. The company serves banks and brokers from around the world, empowering them with an independent and liquidity-neutral solution to facilitate core brokerage operations or complement their existing solutions.
About Centroid Solutions:
Centroid Solutions is a distinguished specialist in connectivity bridge, risk management, hosting and infrastructure solutions, dedicated to enhancing the operational efficiency of brokerages within the electronic trading industry. By enabling brokerages to maintain control over risk management and product distribution, Centroid Solutions empowers market participants to navigate the evolving landscape with precision and confidence. Through innovation and strategic collaborations, Centroid Solutions continues to set new standards for connectivity and risk management excellence.
News.
The most important milestones on our path to make financial markets more efficient.
Feel free to:
Include us in your RFI & RFP processes
Ask to sign a mutual NDA with us
Request an introductory call, product presentation and demo account
Visit our offices and meet our teams
Please note that we are working directly only with businesses (B2B).