News
Tradoverse Adopts TraderEvolution's Software to Offer Commission-Free Access to Global Markets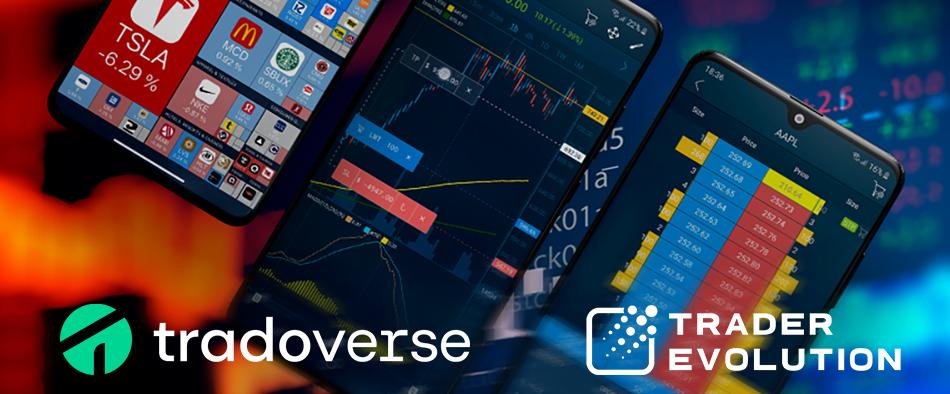 04, July, 2023
TraderEvolution Global Limited, the renowned multi-market trading software provider for brokers and prop firms, supplied its trading solution to Tradoverse multi-asset proprietary trading firm. This innovative platform will cover the back-end, native mobile and web front-end applications.
As a unique trading platform, Tradoverse boasts unparalleled trading conditions, offering traders stocks and ETFs directly from Nasdaq and NYSE, futures indices from CME, Forex and Crypto at spot rates from Binance, all without any commissions, borrowing fees, data, or platform costs.
The platform powered by TraderEvolution covers back end as well as front end applications including native iOS & Android apps and web trading terminal. Among key aspects in Tradoverse requirements that the new platform should satisfy was user-friendly and feature-rich front-end suite which would include a broad range of trading applications. Another important feature was a wide range of supported asset classes together with functionality for market data integration.
By selecting TE as its software provider, Tradoverse found a solution that met its most important requirements: a comprehensive multi-market trading platform and a user-friendly, technologically advanced interface. This partnership enabled Tradoverse to offer its traders an exceptional trading experience, reinforcing its commitment to providing top-notch services and empowering traders to achieve their financial goals.
Diego Fernandez, CEO at Tradoverse, comments:
"At Tradoverse, we are proud to leverage TE state-of-the-art technology to redefine the trading experience. Our platform combines real-time market data, direct market access, and advanced trading front end and back ends functionalities powered by Trader Evolution. With a user-friendly interface and robust security measures, we empower traders to navigate global markets with confidence and capitalize on opportunities. Tradoverse is committed to pushing the boundaries of retail trading conditions, ensuring our users have the tools they need to succeed in the dynamic world of finance."
Roman Nalivayko, CEO at TraderEvolution Global, comments:
"Tradoverse is the type of project that we could help very effectively as our development was focused exactly on such use cases where a combination of broad multi-asset capabilities and sophisticated user-related risk management rules are required. I believe that with our backend functionality Tradoverse joins the most sophisticated investment firms in the retail trading space and could freely compete with the top of the business."
The launch of Tradoverse marks the evolution of the trading industry towards a more diverse and efficient trading environment for all market participants.
About Tradoverse:
Tradoverse is a leading mobile trading platform that revolutionizes the way traders engage with global financial markets. With a strong commitment to commission-free trading and transparency, Tradoverse empowers individuals to take control of their trading journey and maximize their profits.
At Tradoverse, we believe in eliminating unnecessary fees and commissions, allowing traders to keep more of their hard-earned gains. Our unique revenue model, based on small spreads between buy and sell prices, ensures fair pricing and aligns our interests with those of our users. With direct market access, we eliminate intermediaries and provide a level playing field for all traders.
Tradoverse is designed to provide a seamless and intuitive trading experience. Real-time market data, advanced charting tools, and a user-friendly interface enable traders of all levels to make informed decisions and execute trades with ease. Customize your watchlists, receive timely price alerts, and explore a variety of order types to suit your trading preferences.
While we empower traders with groundbreaking features, we emphasize the importance of understanding the risks associated with financial markets. Thorough research and caution are essential for success. At Tradoverse, we strive to be your trusted partner on your trading journey, offering access to global markets and a range of tools that propel you towards your financial goals.
About TraderEvolution Global Ltd.:
TraderEvolution is a multi-market trading platform provider offering modular, tailored solutions that include a back-end with established connectivities to dozens of markets across the globe, and a complex front-end suite with web, mobile, and desktop applications. The company serves banks and brokers from around the world, empowering them with an independent and liquidity-neutral solution to facilitate core brokerage operations or complement their existing solutions.
News.
The most important milestones on our path to make financial markets more efficient.
Feel free to:
Include us in your RFI & RFP processes
Ask to sign a mutual NDA with us
Request an introductory call, product presentation and demo account
Visit our offices and meet our teams
Please note that we are working directly only with businesses (B2B).